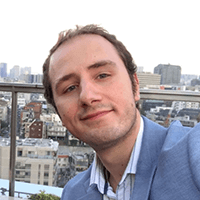 My name is Tobias Schlage. I am a character animator from Germany living and working in Tokyo, Japan. I have worked for over 9 years professionally as an animator on commercial, film, and game projects.
At the age of 22 I joined an animation school and turned my life long passion into my profession. My first studio job in Germany followed right after graduation. Not too long after that, I moved to Japan and started working at an animation studio here while learning Japanese at the university. I hold N2 in the Japanese Language Proficiency Test. During my years working in Japan as an animator, I had the opportunity to work on AAA projects for some of the top companies in the industry.
My recently directed and produced short film Like and Follow won 35 Awards and played at 175 film festivals including Annecy, Giffoni and Siggraph Asia.
I look forward to hearing from you!